Fear is pure. Pious. It is one of those ingenuous feelings that stay unaffected by darkest blemishes of life. Unperturbed it stays from malice. Unbothered it ambles away from feigned notions. Fear is sacred. The Darkest Blog is based upon that very theme.
All my life I have come across ghost stories and scary stories that have exhilarated me beyond limit. Reeking of skepticism I always write them off considering the fact that events unworldly have never happened to me. Why should I believe them? Why should anyone believe them? It is nothing but a murky quilt that tries to cloud our judgment and plays with our senses to steer us away from mundane. But in a way, the thrill that tags along with it is unworldly, and anything that isn't from this enclave is a welcome change, a welcome ripple to our stagnant. Isn't that true?
Lost Horror Stories
What bums me out intensely is that it's ephemeral. The feeling you get when someone is narrating you a telling tale. Growing up I have come across bazillions of true scary stories, from a bazillion mouths and they have all gone hazy. Millions of folklore that failed to find a pen and a paper have ended up disappearing in sands of time, waiting wistfully for sound ears. So unfortunate!
I intend to bring each one of these true scary stories to the forefront.I intend to write them all in these leaflets so that we have a place for every ghost story ever told, or every unsung scary story that have failed to register in our worldly human registers. The exhilaration that it drives along with it is enough to fuel you into seeking real answers, into questioning the myth, into reasoning with the supernatural. After all it is the only company that keeps us awake at night.
My Affair with Horror
It all started pretty young I would say, just as it would occur to another living soul. With rapt attention, I would listen to stories and let my fancy do the rest. Tales my friends narrated, and happenings that were too unreal to be true enthused me enormously. Some ghost stories that would put you into fits of laughter but to me everything seemed palpable.
The sheer terror of it all started affecting my lifestyle as I began loathing the dark. I stopped visiting a certain corner of the house. Would want the lights on if I slept without my brother in my room and I would be too scared to be left alone at my home. To make matters worse, there was this apartment we shifted in where wind made a howling noise playing tricks on windows making me hysteric. I wouldn't sleep all night, would just listen to the wind, hold my pee, gawk at the door for hours for a mysterious man to show up.
TV Shows
I came across a lot of TV shows during that time which all seemed a bit overwhelming to me given the young age I was leading. When an imagination gets wings it is sheer horror. Television did that to me. Little things like an unusual shimmer in the eyes, the disappearance act, ghostly noises, a hand in the dark, everything started playing tricks on my younger self. Sometimes I wonder what a wimp I was as a kid.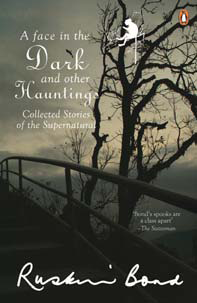 My ardour for dread took a huge leap when I laid my hands on Ruskin Bond's A Face in the Dark for the first time. That also happens to be one of the cardinal reasons to tingle my zeal for terror. I was blown away by the appetite it transpired in me. I was scavenging for horror stories more than ever.
About the same time, I came across a brilliant short story named The Horla or as it was originally known as Le Horla by Guy De Maupassant. An exceptionally written fiction that lets one experience the unearthly. You can find the story here.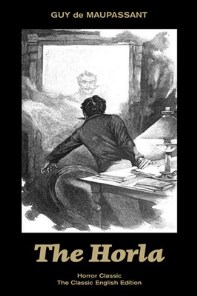 The Movie Front
Then the movie front happened. Stunning movies helmed on anvils of fear came one by one hammering the terror nail further. Grudge showed me the darkest of stuff that my mind still fails to shake off to date. Movies like The Omen, The Exorcist, The Ring thrilled me acutely slashing the visual opening further thereby letting me experience fully a world of possibilities.
Slowly I outgrew it all. Those ghastly accounts became stale without substance and dusky wonders ceased to exist. But in the back of my mind, I know that feeling still lurks somewhere dormant.
My sojourn is still trotting towards the unknown. My head is always on the prowl for the only the best horror stories. I am always on the lookout for miracles. I want something out of the ordinary to happen because the sad veracity in the fact that "life is bleak" is immensely dispiriting.
Skepticism
The ghost topic still interests me but there is immense skepticism for it now. For the very fact that nothing of the sorts have ever happened to me is what fuels that dictum. There was a time not long ago when I deliberately resided at a place in the dark surrounded by limited life just to see the difference the quiet makes. I found myself listening to my heart beat often after 2 or 3 AM at night when there was no electricity, and out the window there was nothing but madding darkness. I intend to tell you about it all in other pages.
When I listen to people narrating horror stories from their lives, I perceive their emotions carefully. I see a certain honesty that is lodged in their eyes, and their heart's rantings that connect mine, a feeling so beautiful that it doesn't have to change ever. If there is no fear in us, wouldn't the whole world decimate in an everlasting squabble? I say it is good. But don't let it swallow you!
With that clear picture in the backdrop The Darkest Blog was helmed. The Darkest Blog welcomes you!
What the Darkest Blog intends to offer?
The Darkest blog wouldn't be limited to thrilling true ghost stories alone, but experiences, narratives, interviews, short stories, scary folklore, dark novels, unlit prologues, forgotten poems, rad epigrams and revealing anecdotes from all across the globe. I will try my best to keep its pages brimming with the darkest of stuffs. I have a colossal vision for it to scale dark animations, illustrations and horizons in the long run. Who knows what we might create eventually?
Why would you believe my writings? I am a full-blown skeptic. I always play with reasoning before dropping the gavel. Remember, we are just here for the thrills, and not to debate on what's real and what's not. These recounts might be completely hollow but there is nothing wrong in listening to them for the mere excitement it tags along.
Keep visiting The Darkest Blog to see what these leaflets have amassed over a time-span, or even better: subscribe and stay connected to every post I pen. That way you will not miss anything.
Love.
TDB
PS: It isn't the only enclave I write on. You can explore my other works here:
Hand-picked sentient movie quotes and thoughtful reviews from a beady-eyed movie buff.
It reflects the head of a person keen for answers, who is engulfed in a lot of soul-searching and who wouldn't sit quiet unless he is brought into the light with life's pensive comebacks.
A place for honing IT related skills. Tutorials that are dumbed down for understanding.